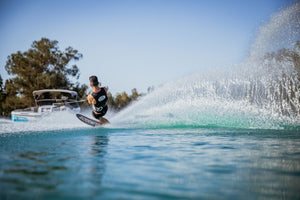 ABOUT US
Goode is world renowned for our carbon fiber slalom skis that continue to get world records, podiums and attract the best water skiers in the world. Equally notable are our carbon fiber pencil poles which revolutionized ski poles. Dave invented and patented the carbon fiber ski pole and was highly regarded and respected in the snow ski world because of this invention.

When Dave was 19 years old he was first and foremost a snow ski race athlete and around that same time got into competitive water skiing in the summer months. After a career ending injury on snow he quickly turned his passion into his business when he started Goode Ski Technologies. He was obsessed with watching how equipment was performing and responding to the ever changing conditions of snow and water skiing and was solely focused on making the BEST equipment possible.

His company grew and gained momentum because of his "mad scientist" ways of thinking outside of the box by sourcing and trying new design and layup ideas as well as sourcing the highest qualities materials he could get his hands on. This is when Carbon Fiber came into the picture and the rest is history.
IDEAS
INTO
REVOLUTIONARY
PRODUCTS
Some may not know that Dave Goode started his company right out of high school, while his friends were headed off to college Dave was innovating and making the products we use today. He was concentrated on his athletic goals of being on the U.S. Ski Team, specializing in downhill. He was a skier both on snow and on the water and his passions run deep, they were part of his soul. This extreme passion lead him to innovate and drove his commitment to making the best possible products for athletes and skiers of all levels on snow and water.

After the tragic accident that took Dave's life on January 15, 2020 and the company sat still in grief but we never once thought that we would not carry on Dave's hard work, passion and commitment to the snow and water skiing worlds. "Your ministry is found where you've been broken. Your testimony is found where you've been restored" unknown. While we will never be fully restored or the same without Dave, we will always be the same in carrying on his innovation, passion and commitment. Thankfully Dave has cultivated a community of loyal, intelligent and committed people to help carry the business into the future. Goode Ski Technologies is confidently committed to the future.

Dave was always confident in his innovative decisions and the company will move forward with that same confidence. To watch the Dave Goode Memorial video, click HERE.